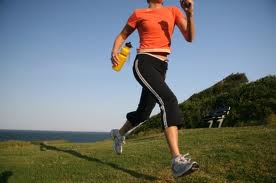 What is the most important thing for a runner? Good shoes! Most runners will tell you their number one item when running is their shoes. Not only are shoes important for your feet, they help strengthen your leg muscles. Good shoes also help you avoid injuries and long-term problems. The goal this week: Vamp up your running shoes. You don't necessarily have to buy new shoes. Instead, by practicing proper shoe hygiene, you can reap the benefits you'd gain from a new pair of shoes.
Start with the laces. You should always tie and untie your laces when putting on and removing your shoes. Doing so provides a snug fit that will keep your shoes nice and fit your feet properly. Check in with your socks. If you wear good socks, your shoes will fit better. Finally, look into an insert if you are having foot problems. Inserts can help with balance, arches and even knee trouble.
How long do your running shoes last? Your shoes should be replaced every 100 miles, or each year, whichever comes first. Visit The Runner's Guide for more helpful information about running shoes and everything else for the modern day runner! If it has been more than a year since you've purchased new running shoes, head out and grab some new ones! Remember, proper shoe hygiene can keep your feet healthy and your body feeling great!