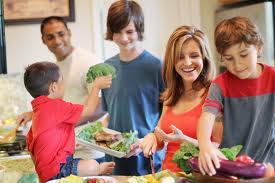 Tradition of Cooking
When most of us think about the holiday of Thanksgiving, we think about food, food -- and more food. Food traditions are an important part of the holiday, when everyone gathers in the kitchen to prepare recipes passed down from generation to generation. This week's Be BETTER health goal is all about the tradition of preparing food. In our culture, we typically eat our meals without paying attention to where the food is coming from and how it is made. This week, invite family and children to participate in the preparing of Thanksgiving dinner and holiday feasts. Teach them about the history of the dishes and show them how the ingredients make a difference in the dishes. This Thanksgiving, feel connected to the food you put into your body and focus on the process of cooking, not the outcome.
When we pay attention to the preparation, food helps connect us to our story and our family history. We become mindful about our cooking and our eating. This Thanksgiving, feel connected to the food you put into your body. Be grateful for the turkey that was once living and now feeds your family. Be grateful for the "from scratch" recipes that color your table. Mostly, be grateful for the opportunity to cook with your family on a day celebrating thankfulness.
Here is an amazing article talking about The Power of Food and the Importance of Family Recipes. It talks about the emotional experience of food, the legacy of food, and the heritage of food. This article helps you realize the important of family recipes. The article quotes Julia Child: "Dining with one's friends and beloved family is certainly one of life's primal and more innocent delights, one that is both soul-satisfying and eternal."
As we kick off the holiday season, allow your holiday cooking to be about the experience. Have fun. Cook together, and enjoy.