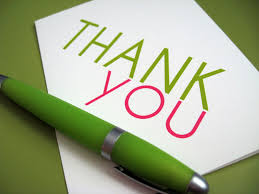 Remember to say Thank you.
As the holidays approach, we are constantly reminded to give back and be grateful. This week, take it to the next level. Your goal: Give thanks to those around you.
Life can go pretty quickly, and it is easy to get caught up in the grind. However, a genuine and sincere thank you can go a long way. We encourage you to stop and take a minute this week to think about who you are thankful for. Do you have a particularly awesome boss? Is your best friend always going the extra mile for you? Do you have a family member who is always there for you? Whoever it may be, notice the gift. And then be sure to say thank you!
Being grateful makes you happier and healthier. It gives you something to focus on that is good, and thus improves your mood. Being thankful also helps you to see more blessings in your life. Once you start looking for them, you will notice all of the good things and loving people who surround you. Without a doubt, you'll be a happier person.
Let people know you are thankful for all that they do in your life by simply telling them you are thankful. Remind them that they are important to you and that your life would not be the same without them.
This week, say thank you more. Be grateful for what you have!
Ps. Extend the thank you to random strangers you interact with daily. Nothing is better then a random sincere thank you.