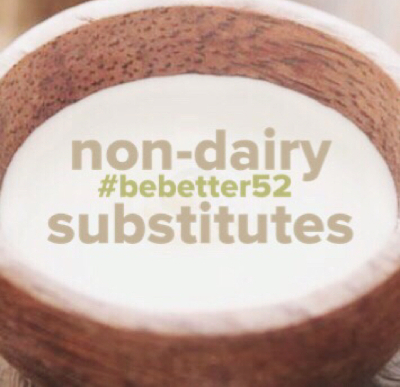 Use Dairy Alternatives #bebetter52
Unless you are lactose intolerant, cutting back on dairy or eliminating it from your diet may never have crossed your mind. However, there are numerous health reasons for everyone to consider decreasing the amount of dairy they consume.
Recent studies have linked dairy consumption to prostate, ovarian and breast cancers, digestion issues, ear infections, nasal congestion, heart disease, high cholesterol, type 1 diabetes, migraines, heartburn, and poor complexion.
On the other hand, dairy products are a great source of calcium, potassium and vitamin D. Luckily, these same nutrients can also be found in dark leafy greens, bananas, and salmon, respectively. So if you cut back on dairy and consume these products instead, you need not worry about vitamin or mineral deficiencies.
If the thought of completely eliminating dairy from your diet still seems intimidating, you can ease into it with this week's Be Better challenge, which is to focus on buying and getting creative with dairy alternatives. Rather than think of this week's challenge as "cutting out" dairy, think of it as "adding in" dairy alternatives – which can be tastier and healthier than dairy products. There's even dairy-free ice cream. In fact, whatever your dairy favorite is, you can probably find an alternative.
Even with this week's challenge, you'll be able to enjoy a piece of buttered toast in the morning and a container of strawberry yogurt as your afternoon pick-me-up.
When shopping for dairy alternatives, look for…
Better yet, most grocery stores now carry these dairy alternatives, saving you a trip to the natural foods store and leaving you more time to experiment! If you're looking for ideas, GoDairyFree.org has over 1,200 dairy-free recipes to choose from. Food Network also has a fun, simple guide on how to make your own dairy-free milks (coconut, almond, soy, rice, hemp and cashew).
Be Better this week by seeking out dairy alternatives. We can't wait to see you get creative with the dairy substitutions you find.