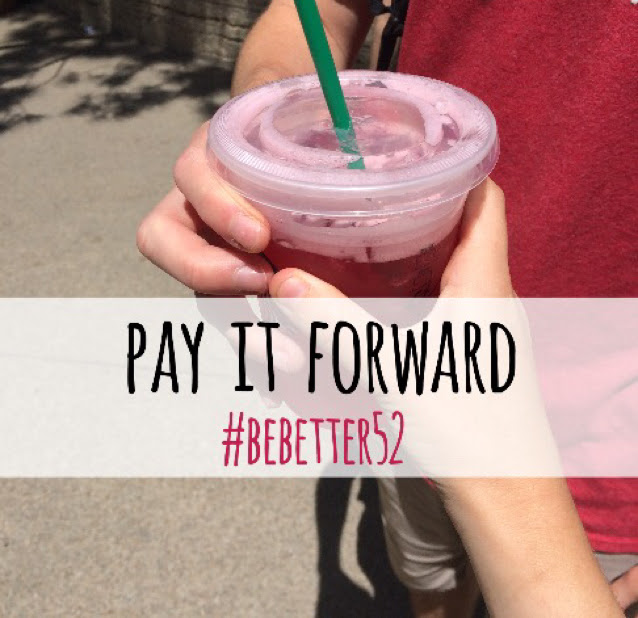 Pay it Forward #BeBetter52
In 2014, 378 people paid it forward at a Starbucks in Florida. This act was started by one woman who was simply trying to brighten someone's day. Little did she know it would set off a chain reaction and lead to a profound impact on her community.
We see so much negativity in the world that we forget that the simplest kind gestures can make the biggest of impacts.
This week's #BeBetter52 challenge is to it pay forward to 3 or more people! This is a great opportunity to make a positive and profound change on the world around you. With each act of kindness, you complete, you will be helping to create a more compassionate society.
Thursday, April 28th is known as International Pay It Forward Day. In 2015 people from 75 different countries participated and made a positive impact on those around them. Regardless of where you live, what you do, or whom you know – you are constantly surrounded by opportunities to pay it forward.  Have fun this week Be Better and be sure to come up with some creative ways to pay it forward!
Ideas to pay it forward:
Pay for someone's drink at Starbucks,
Put money in a parking meter that is about to expire.
Pay for someone's book at a bookstore.
Donate blood.
Create a care package and send it to an active duty military unit.
Hold the door open for someone behind you.
Stop and buy a drink from a kid's lemonade stand.
For more ideas check out  http://www.marcandangel.com/2012/05/25/60-selfless-ways-to-pay-it-forward/