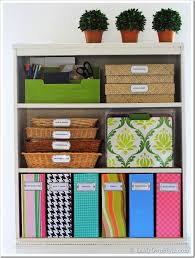 Everyone knows that satisfying feeling of being organized, even if only for a brief moment and only in one area of your life. But I think a more familiar feeling is that horrible, anxiety-provoking feeling of being unorganized. There is an obvious difference between the two states of mind. This week, we are going to tackle the topic of being organized -- in a very organized fashion.
First you are going to locate two to five areas in your life, house, car – or perhaps that random box in your garage – and commit to organizing those areas.
Every day this week, you are going to spend 15 minutes working on organizing that one specific area. If you have more than 15 minutes available, go for it. But if you don't, stop after 15 minutes. Do not start another organizational project until this one is done completely, even if that means you need to continue the task the following day. It is amazing how much you can get done in 15 minutes.
We do understand that it might not be an actual physical location that needs to be cleaned up and organized.  It might be your schedule or your email inbox. Again, spend 15 minutes focused on organizing that one area. Don't start on another area until that area is completed.
Similar to our 30-second tasks , we can ease stress in our lives and get more things done than we think possible by committing just 15 minutes each day to organizing.
For great tips on organizing, go to http://orgjunkie.com/.
If you would like to learn more about Aly's Angle on Organizing click here. She is victim of starting projects and never completely finishing them.