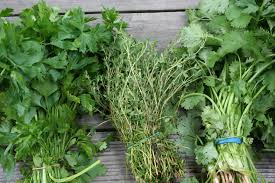 This week's health goal is to buy and cook with at least one fresh herb, not dry herbs but fresh herbs! You can buy them pre cut at the grocery store, or you can buy the planted version. If you feel extra inspired, you can start the process of planting an herb garden. Remember it doesn't have to be an overwhelming task, just buy one planted herb at a time and stick it in the grown. More tips on starting an herb garden. Fresh herbs not only taste good but can have beneficial health effects. The Egyptians studied herbs and used them in medicinal and religious functions as far back as 3500 B.C. Today, science is rediscovering the health benefits of herbs.
Herbs contain a bevy of disease-fighting nutrients, including anti-oxidants, which battle cancer and heart disease; essential oils, which can kill germs; vitamins, which also aid against heart disease; and phyto-sterols, which help lower cholesterol.
Herbs also are used as remedies for a variety of ailments.  For example, rosemary, oregano and chamomile all relieve digestive ailments. Rosemary also relieves sore muscles when rubbed onto the skin, and chamomile can relieve diaper rash when applied topically. Camomile can also be used as a sedative. Oregano relieves respiratory problems and also treats yeast infections. Fennel can be used to treat colic and gas. It also serves as a diuretic.
For more information, read the article, "How Does Eating Herbs and Spices Affect Health?"