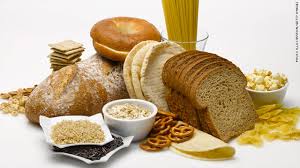 This week's goal: Go gluten free
Give it a shot for seven days; you may notice a huge difference. Gluten is found in more foods than you might think. We all know that gluten is found in bread and pasta, but it's also contained in barley, oats, rye and wheat. And those items are elements in many of the foods we eat. Gluten can also be found in beer, ice cream, soy sauce, candy, ketchup, and some imitation meats like chicken, pork and ground beef.
What's wrong with gluten? Gluten is a protein composite that gives elasticity to foods, such as dough. This is why it may be used as an additive in imitation meats, among other foods.  However, with so much gluten in our diet, our stomachs have to work much too hard to digest this food.
Find a balance! Maybe after going gluten free for a week, you are ready to have gluten back in your life. Still, you can find a balance with other grains and foods. Substitute quinoa pasta for whole wheat. Avoid imitation meats. Eat rice or potatoes instead of bread or pasta. Giving your body this variety will improve your health -- and likely shrink your figure as well!
How do you make this huge change in your diet?
Below are some great non-gluten options suggested by eatinggultenfree.com
More on a Gluten Free Suggestions, click here
BREAKFAST
*        Migas (mix: bacon, scrambled eggs, sauteed corn tortilla pieces, cheese)
*        Eggs and bacon
*        Yogurt (check labels)
*        Fruity Pebbles (check labels)
*        Puffed Rice
*        Omelet
*        Fruit
*        Hashbrowns
*        Cream of Rice Cereal
*        Rice Cakes with Peanut Butter and Honey
*        grits
*        Polenta
.    LUNCH
*        Corn Tortilla Sandwiches
*        Salads (Chefs, chicken, ham, etc.)
*        Rice Crackers with Tuna or Lunchmeat
*        Hot Dogs
*        Baked Potatoes
*        Corn Tortilla Quesadillas
*        Leftovers from Dinner
.    DINNER
*        Hamburger Pizza (Pizza toppings on burger patties)
*        Meat (Burgers, etc.) and Potato Wedges
*        Roast Beef / Grilled Chicken / Pork Chops / Steak with: mashed potatoes, veggies, potato salad, etc.
*        Spanish Rice
*        Chicken Fried Rice
*        Teriyaki Bowls (check Label of Teriyaki sauce)
*        Using Corn Tortillas:Enchiladas, Tacos, Fajitas, Tortilla Soup, Chimichangas
*        Chili and Rice Stew (thickened with cornstarch)
*        Stuffed Peppers (Chilis Rellenos)
*        BBQ ribs
*        Baked Potatoes
*        Spaghetti Sauce on rice or spaghetti squash
*        Kalua Pig
*        Taco Salad
*        Beef and Broccoli
.    SNACKS
*        Cheese and Rice crackers
*        Yogurt/ Go-Gurt
*        Apples and Cheddar Cheese
*        Cottage Cheese and Fruit
*        Carrots with dip/Ranch Dressing
*        Ice-cream
*        Popcorn
*        Chips and Salsa
*        Smoothies
*        Jerky (Check ingredients)
*        Dehydrated fruits
*        Celery and Peanut Butter
Gluten Free Recipes
The most difficult thing about going gluten free is figuring out what to eat. Here are a couple websites that help you with this problem. All the websites provided below are linked to gluten free options.
Gulten Facts
How many people have gluten-related disorders?
It's estimated that 1 in 133 people in the United States have celiac disease. The level of prevalence of non-celiac gluten sensitivity has not been determined but may be up to 6 times higher. Only 5% of people with celiac disease have been diagnosed. (GIG Education Bulletin, Feb 2013)