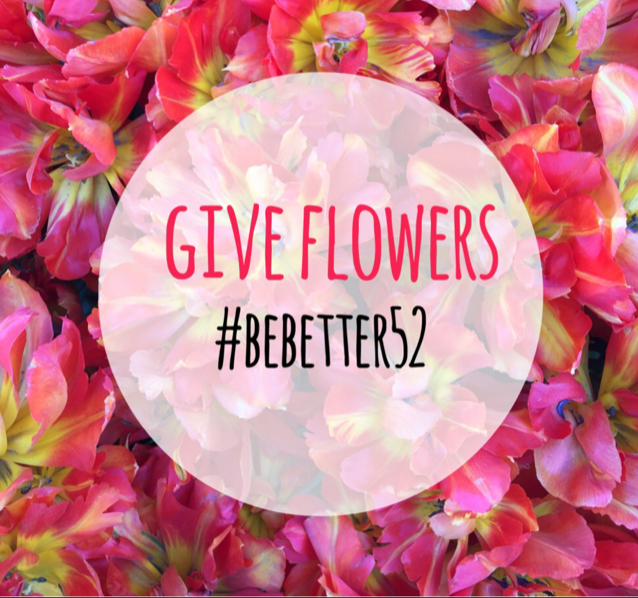 Give Flowers #bebetter52
Stop and smell the roses. And, while you're at it, pick a few for a loved one! With spring blooming, there's no better gesture to show someone you care.
This week's #bebetter52 challenge is to give flowers to someone, whether it's to show romance, friendship or simply gratitude and appreciation. The flowers can be handpicked or store-bought; the important part is the thought!
Giving flowers is an integral part of social customs dating back to ancient China, Greece, Rome and Egypt. In Greek mythology, flowers are used to represent gods and goddesses. The custom of gifting flowers continued in the Middle Ages, with the French and English keeping the tradition alive and strong. During the Victorian era, gifting flowers was prevalent because it was considered ill-mannered to express feelings in words. That is the era when many of the rules for gifting flowers were created and modern customs surrounding the gifting of flowers began.
According to a study done by Rutgers University researcher Jeanette Haviland-Jones, both men and women who give flowers are perceived as happy, achieving, strong, capable and courageous people. Haviland-Jones also found that men and women who give flowers come across as more emotionally intelligent and show that they can effectively express their feelings and take time to understand the feelings of others. On top of that, female floral gifters are viewed as more appreciative of beauty and nature.
Here are the traditional meanings of flowers you might want to give:
Carnations: Carnations, the most popular flowers in the world, symbolize love and fascination.
Bells of Ireland: These green beauties represent good luck.
Iris: This vibrant, purple flower represents friendship.
Hyacinth: These stunning flowers come in many different colors. The purple is often given to say, "I'm sorry."
Roses: Of course roses are thought of for romance, but they are also used to say congratulations. Yellow roses represent high achievements.
So present flowers to a special someone; you'll see that person light up over your gift.
More on giving flowers: