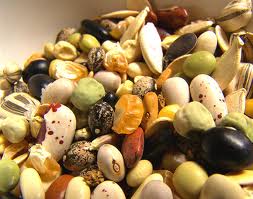 This week's health goal is to incorporate seeds into your diet. Go to the store and buy a pack of seeds that you rarely or have never tried and commit to eating them. What kind of seeds? You have plenty of options! From chia seeds to sunflower seeds, sprucing up your diet will benefit your health. Our favorite resource for good information on "super seeds" is at www.self.com. It highlights many different types of seeds you can incorporate into your diet. They list 7 seeds that help with a variety of topics. For example, pomegranate seeds are good for weight loss, sesame seeds for a healthy heart and flax seeds for cancer prevention. The website also provides one yummy recipe per seed, that will help you enjoy the experience of consuming.
Chia seeds are becoming increasingly popular in American culture, and for good reason. They are easy to digest and don't need to be ground up. Chia seeds can help you reach your weight goal by decreasing your appetite and helping you feel full faster. They also provide hydration, a big perk for athletes. Chia seeds are rich in Omega-3s, essential fatty acids found in fish and certain plants. Another great seed is the flax seed. Also high in Omega-3s, flax is additionally a great source of fiber. Include these seeds in your cereal or other breakfast foods for energy all day. Flax seeds can help reduce cholesterol, which creates a more heart-healthy you.
A more commonly consumed seed is the sunflower seed. It is great in salads, or just to snack on. Sunflower seeds are a natural vegetable protein, and we all know how good protein is for the body. Like flax and chia, sunflower seeds help lower blood pressure.
For the next week, try to incorporate more seeds into your diet. You can find them at your local grocery store, often sold in bulk. Seeds provide fiber and roughage for your diet, which helps with digestion. So next time you need a quick and easy snack, grab some seeds! Eat Seeds.