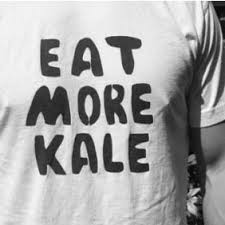 Kick it up with Kale!
By Kelsey Taylor, Be BETTER blogger
This week's health goal: Kick up your diet with some kale! Do you already eat kale, or have you avoided it so far? Either way, we are going to persuade you to try it for the first time or to increase the amount of kale you currently eat.
Kale is the most nutrient-dense food you can eat – period. That means it has more nutrients than any other food, along with relatively few calories. Kale is a type of cabbage, and it's packed with vitamins, minerals and phytonutrients that are vital for your body's health. It is green and leafy, and can be eaten raw or cooked. Kale is high in fiber, which aids in digestion and keeps you feeling full longer. It is also full of antioxidants that help ward off disease. We would call kale a super food!
So how do you eat it? You can chop it up and serve it raw as part of your favorite salad. Or steam or sauté it, and combine it with lean meats for a high-protein, high-fiber meal. If you need more ideas, check out Cooking Light for more than 15 ideas on how to prepare it. Our Be BETTER health goal: Try to eat kale at least three times this week. See if you notice a difference in your body. We know we sure do.