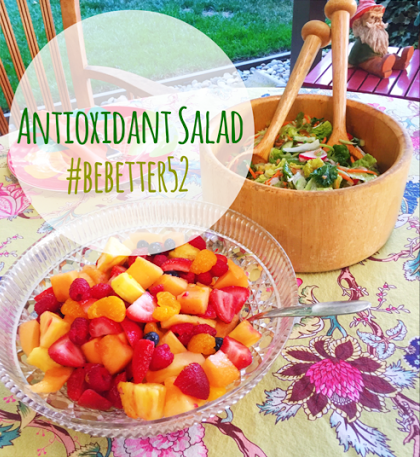 Antioxidant Salad #bebetter52
In the heat of the summer, a salad is a perfect way to stay cool and refreshed and also help your body stay clean and healthy.
This week's #bebetter52 challenge: Eat an antioxidant salad. Whether you make it yourself using fresh ingredients, or order one while out to lunch, focus on eating antioxidant-rich foods and keeping your body healthy this week.
Antioxidants, found in substances such as vitamin C and E, help fight and remove damaging oxidizing molecules from the body. Antioxidants fight against damaging agents called free radicals, which are linked to nerve cell damage that can eventually lead to diseases such as cancer.
Consuming antioxidant-rich foods will neutralize the free radicals already in your body and decrease the formation of new ones (stanford.edu). 
The cause of free radical development in the body can stem from the air we breathe to the food we eat, which is why it is important to make sure we are putting antioxidant-rich substances in our bodies.
Below is a list of foods with the highest levels of antioxidants (rd.com):
Prunes
Raisins
Berries (blueberries, blackberries, strawberries, raspberries)
Red Grapes
Cherries
Oranges
Plums
Kale
Spinach
Brussels Sprouts
Broccoli
Beets
Red Bell Peppers
Onions
Corn
Eggplant
Making a salad using these fruits and vegetables is the best way to get antioxidants into the body. Next time you are preparing your own meal or out at a restaurant, try to include a salad with a few of the ingredients above. Anti oxidant salads will not only provide your body with a healthy defense against damaging molecules, but they will also serve as a tasty, easy-to-make meal.
Here are a few recipes to get you started:
Martha Stewart Antioxidant Salad 
Mega Berry Antioxidant Spinach Salad 
Broccoli Antioxidant Salad Recipe